What Is It?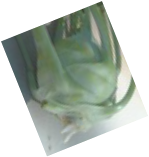 Little by little we are adding photos here of the vegetables and varieties that we grow. Mostly so far we have early season photos but will try to get mid and late-season varieties posted, too.
An excellent source if you're not sure what to do with it or even what it is (and if you don't see it here) is
the
Cook's Thesaurus
.
For cooking tips on several of these, click on the photo and it will take you to the section of our recipe pages that includes that item. There will also be more info there as well as (sometimes) links to other sources.
If you don't see what you're looking for, pop us a line and we'll try to get something posted. And by the way, these are posted in the order I posted them although I'm trying to keep things together that have something in common. It might make sense to put them in alphabetical order, but I'm guessing if you're on this page, you know what it looks like not what it's called so it might be more helpful to have various things with similar veggies.
---
Lettuce, Black Seed Simpson


My favorite leaf lettuce has a light, crisp flavor. Great in salad or on a sandwich!

---

Radish

This particular variety is called "French Breakfast". Radishes are much more versatile than just for salad. The greens are also edible and are somewhat peppery.

---

Spinach

This is what we refer to as Standard Spinach (as opposed to New Zealand). And it's my favorite green!

---

Mustard Greens

Have a peppery taste, especially when raw. These are Maggie's favorite green!

---

Kohlrabi


The bulb and greens are both edible

---

Kale


Glenn's favorite green. Kale can come in a variety of curliness. This is ours. By the way, the stems are often sweeter than the leaves.

---

Collard Greens

A staple of southern cooking, collards are a hearty green.

---

Garden Peas


Sometimes called shell peas, the pods won't kill you, but I don't recommend trying to eat them

---

Yellow Wax Beans

A variety of snap bean, they differ from green beans primarily in color.

---

Zucchini


That's the green one in the photo. There are a wide variety of zucchini, including a yellow one. (But the one in the photo is a yellow straightneck squash.)

---

Pattypan Squash


A summer squash with a nuttier flavor. Use it in just about any summer squash recipe.

---

Genovese Basil

This is the classic Italian sweet basil.

---

Garlic Scapes

Scapes are the shoots that grow out of the ground from hard-neck varieties of garlic. We forage for ours from the wild garlic that grows all around here. It's some awesome stuff!


---

Lettuce, Buttercrunch

A head lettuce that's slightly bolder and heavier. Excellent flavor.

---

Green Onions


These are actually simply the thinned early onions. Here are a white and red variety.

---

New Zealand Spinach

This doesn't look anything like standard spinach and it has a different texture and somewhat different flavor than standard spinach (especially raw). It is, in fact, a variety of spinach that is heat tolerant.

---

Spinach Mustard

A cross between the very mild spinach and peppery mustard. Glenn sometimes calls this mustard spinach - it's the same thing.

---

Turnips with greens


Both the turnip and greens are great sources of vitamins and yumminess. See the recipe section for some preparation ideas.

---

Turnkale

This is a cross between turnip greens and kale that Glenn and his brother developed. It's pretty good.

---

Swiss Chard


One of the milder greens. Chard may have any number of colors in the stem from palest green to deep red. All are yumminess.

---

Snow Peas


Eat pod and all

---

Green Beans

A variety of bush bean rather than string beans or half-runner beans.

---

Yellow Squash


The one in the photo is a straightneck and there's also a crookneck. Virtually interchangeable with zucchini or pattypan.

---

Sweet Corn

We grow a couple different super-sweet hybrid varieties of sweet corn.

---

Purple Basil

There are more than 60 varieties of basil, all with differences in flavor. This is a sweet basil variety.

---

Cucumber, slicing

What's to say? They're awesome and one of Maggie's favorites. She can put away a whole cuke in about 10 minutes.

---