2014 Farm Table Shares are sold out, at least temporarily, simply because we don't have the beef available to handle the demand. Please contact us for updates on this situation. We're actively seeking quality steers and are also looking into making lamb an option, if we can find enough lambs! Who knew this would prove to be so popular?
Farm Table Share

someone else's picture
Wouldn't it be great to have a regular supply of yumminess from the farm from both the meat and produce sides of the lane? Our Farm Table Share offers just that with a nice variety of produce, eggs, and meats across the summer and fall season. If you're someone who gets a Garden Share or Farmers Market produce each week and likes locally produced honey and eggs, grass-fed beef, range raised heritage pork and poultry, this is perfect for you (and will save you money in the long run, too).

The Farm Table Share will run through the 18 week summer garden share season and finish off with a flourish in November and December holiday season. You can add to it and you can even customize certain parts (to an extent - we can't give you a half hog in just bacon, for instance).

---
Family Farm Table Share

Full Summer Garden Share

Winter Garden Shares in both Nov and Dec

Egg Share of a dozen eggs per week

Half a hog

(appx 60 lbs of asstd cuts)

Half a steer (appx 200 lbs of asstd cuts)

10 chickens

1 Turkey and 1 Goose

2 Ducklings

2 quarts of Raw Honey

$2150 ($2400 Value)

Couple Farm Table Share

Half Summer Garden Share
Winter Garden Share in either Nov or Dec
Egg Share of a dozen eggs every other week
Quarter hog (appx 30 lbs of asstd cuts)
Quarter steer (appx 100 lbs of asstd cuts)
5 chickens
Either 1 Turkey or 1 Goose
1 Duckling
1 quart of Raw Honey

$1075 ($1200 Value)
How It Works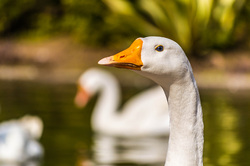 A Farm Table Share should feed a family of four nicely, and a Couple Table Share should handily care for two people. Of course, it all depends on your cooking and eating habits, and you can plan on using your share to get you started, but you'll want to supplement from your own garden, other farmers market vendors, or even the grocery store.

You will receive your produce and eggs every week (or every other week) throughout the summer share season and you can choose whether to receive your meat all at once, at the beginning of each month, or each week. What you do will depend on your freezer space as well as what our butchering schedule looks like. We'll try to lay out what that might look like either way, but 2014 is the first year to actually do this and, with everything else CSA, there will be a learning curve and we'll expect feedback.

---