Mulberry Creek Mulefoot Pork FAQ
Do you have pork for sale?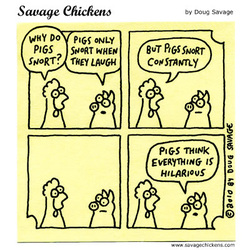 This cartoon has nothing to do with sale of pork. It's just funny.
Yes!
You can choose from among the following options:
1. Purchase a live pig and raise it yourself to butcher.
2. Purchase a live hog that you will have processed yourself.
3. Purchase a half or whole hog that we will have processed and packaged for you as part of the cost.
4. Purchase pork by the pound (when available).
5. Purchase a suckling pig for that special occasion (when available).
---
When do I pay for my pork?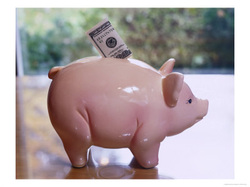 If you purchase by the pound or cut, simply pay your balance when you pick-up.

For bulk orders, a deposit is due at the time of your order: Whole Hog: $75; Half: $40; Quarter: $25.
Since price is based on carcass weight and processing costs, we will contact you with the total due once the hog has been butchered. Balance will be due at pick-up.
---
How much is in a pork share?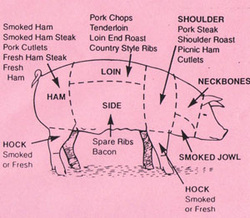 We get asked this a lot so here's a run-down on what you can expect from a typical half-hog (depending on which hog you get half of and which half you get – for instance, there's only one heart). Just double this list for a whole hog.
A half hog will total somewhere in the neighborhood of 60 lbs. of meat that will be cut pretty much as follows:
6 or 7 lbs pork sausage; 8 or 9 pkgs pork chops (2 thick or 4 thinner per pkg); 1 pkg spare ribs; 2 pkgs shoulder steaks; 2 or 3 pkgs ham steaks; 2 or 3 roasts; 1 pkg liver each and then either another pkg of liver or the heart; and either one more pkg of chops or shoulder steaks. Plus a ham and a few pkgs bacon depending on the hog. To compute cost, the hams will weigh around 10-14 lbs and bacon will be about 3-4 lbs.
Order a share
here
.
---
There are some cuts I don't like. Can I customize my whole or half hog?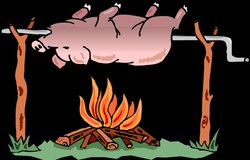 The bottom line is that you're purchasing a whole or half of one animal. You get the meat that's on that animal.

To expand on that answer, we can't offer you more of some kind of cuts than your hog has to offer. As one example, every hog only has two hams (we don't typically have hogs with more than two hind legs) and only so many pork chops.

On the other hand, you can have anything you don't like ground up into ground pork or turned into sausage and most cuts can be brined and smoked to make ham, as in the finished meat product as opposed to the cut.


Typically, we have a standard butcher done on a whole or half hog and it will look something like the description in the paragraph above. You are perfectly free to customize your cuts, however. You just contact the processor to arrange to have your animal processed your way. That's not something we can do for you. If you'd like to have your hog custom cut (you want all pork chops and brats, for example), let us know and we'll give you the contact information for the processor.

Please be aware that any part of your hog that you choose to have turned into bacon, ham, any kind of seasoned sausage, or otherwise meddled with, will cost more than just the butchered meat. We're working on getting instructions on the recipes pages for how to make your own sausage and brine your own bacon and ham.
---
Do you add anything to your processed meats, such as MSG or HFCS?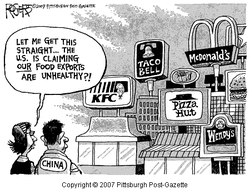 Before answering that question, we'll let you know that our hogs eat plants that grow in our pastures and woods and non-GMO corn that we grow ourselves as much as possible. (If we run out of corn in the middle of winter because of a poor growing season, they still have to eat.)

We don't add unnecessary additives (like MSG) or fillers (like HFCS) to the meat we process ourselves because we don't want to eat that stuff, either. The down side is that we can't sell that meat. So the real answer to this question is that it depends on who processes it. We have little control over what seasonings, additives, fillers, etc a particular butcher uses, although some will order a particular seasoning mix for use on our hogs and in those instances we select MSG etc free mixes. Is that clear as mud? See below for more on this.

If this is a huge issue for you and you'd like to be in complete control of what goes into your body, we're working on getting instructions on the recipes pages for how to make your own sausage and brine your own bacon and ham.
---
Where Is Your Pork Processed?
Due to FDA regulations, we cannot sell pork we process ourselves (we aren't licensed and don't have the resources to become licensed).
On the surface, we use the butcher who has an opening.
Sanders Meats
in Celestine, Indiana, has been our preferred butcher, but we have also used Merkley and Sons in Jasper, Indiana (they don't seem to have a website but do have a
Facebook
profile). These are the butchers we prefer because we like their work and they're closest to us, but you have to come to the farm to purchase/pick-up your meat.
We're working on getting set up with a butcher in KY who is USDA inspected which will allow us to sell meat at the Owensboro Farmers' Market, among other places, but it's quite a process and can get pricey, especially if we elect to have sausage and etc processed by them. If you'd like to know where we are in this drop a line via our contact form.
By the way, we can't always get an animal scheduled for processing when it's convenient for us or for you. Availability depends on how busy the butcher is. For instance, during deer season, the wait can be several weeks. Thank you for your patience!
I'd like to purchase a half or whole hog, but I don't have the freezer space.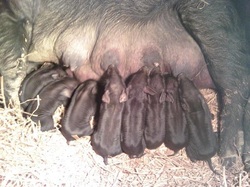 Purchase a hog share.

With this option you can purchase a whole or half hog and you can either
> receive the entire share at once
> or we'll divide it up so you receive a percentage of the cuts each month for two months.

If you order a quarter share, you get it all at once.

For more information, contact us.
---
What is the difference between pork from Mulberry Creek Farm hogs and the pork I buy in the store?
This was the "Question of the Month" in our Newsblog of 15 Sep 2010.

I could put it this way ...
However, let me start by repeating that "the other white meat" isn't supposed to be white. That's a marketing ploy by Big Ag to convince the consumer to purchase the pork they've produced in CAFOs (above left) through breeding pigs toward less fat and more chops. (Right up there with too many eggs will make you sick, raw milk is bad for you, and red meat will give you an awful disease. Hmph. More for us, is what we say.)

We, on the other hand, breed heritage hogs out in the woods and fields (above right), one breed of many that have maintained their historic characteristics. The fat is what produces both the flavor and the tenderness (like a well marbled steak), and most of the fat will actually cook out of the meat. Pork lard is also far superior to fake lard (AKA shortening) in both flavor and resulting product – you simply can't beat a pie crust made with real lard over one made with shortening – as well as being far healthier, contrary to the stuff advertisers would like us to believe. Trust us, it's well worth spending a little more to get pork from hogs that lived happy and healthy lives in an environment to which they are suited.

For more on this theme, read on.

On Price vs. Cost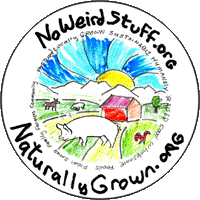 We've been asked more than once variations of the following: "I can get a butterball for $0.99/lb. Why are your turkeys so expensive?" "Pork at the grocery store is a lot less than yours, how come?" "I've purchased pork from XYZ Farm and theirs is cheaper." "Why does such a small chicken cost so much more than the nice big ones at the grocery?"
Not to be rude, or anything, but you get what you pay for.
The bottom line is that you need to
know your priorities
. If your priority is price, you'll hit the refrigerated displays at your local big name chain grocery every time. If your priority is
cost
, on the other hand, or flavor, or animal health and well-being, or locally grown or sustainable, or chemical free, etc, you will do well to remove what's-on-the-price-tag from your consideration.
Here's the deal. In general, it just takes a lot longer to grow a heritage animal, feathered or haired, than it does a commercial breed. Consider
poultry
. Commercial chickens are butchered at about 9 weeks, commercial turkeys at 14. Commercial birds have been genetically engineered to grow big fast on cheap food. Because they haven't yet reached maturity, they haven't yet developed the rich flavor a turkey or chicken ought to have. This is the main reason brining has become so popular. Our poultry, on the other hand, take a good 6 months to grow slowly and naturally, developing that good flavor (needing no brining). While they do range and forage on pasture, we still have to feed them some - poultry are not ruminants and they need some amount of grain. Corn costs money - the rise and fall of the price of gas pretty well parallels the rise and fall of the price of corn.
Now about
pork
, which isn't quite as simple except for the fact that it's a lot cheaper to raise commercial hogs than heritage hogs. Commercial hogs have been bred to produce lots and lots of ultra-lean pork chops and lots and lots of little pigs who grow up quickly to produce lots and lots of pork chops and so on and so on. Commercial hogs have also been bred to grow quickly in confined conditions and they really don't do well on pasture, although there are plenty of farms out there pasture raising Landrace hogs because that's what's been under cellophane for so long most people don't know what heritage pork looks like. (Pork is
not
supposed to be white, nor is it supposed to be ultra-lean.)
Again, it takes longer to grow our pasture raised heritage hogs than commercial hogs whether they're raised in a confinement operation or on pasture. Many commercial confinement operations force feed their hogs high protein feed often containing growth enhancers so they grow much more quickly. We don't. Many confinement operations remove the piglets from the sows very early and put the sow right back into pregnancy. We allow our pigs to remain with their moms for at least 6 weeks before they wean and we allow our sows some rest between breeding cycles. Commercial breeds make more babies than ours do, statistically it's about twice as many but in reality it's probably a much higher ratio, so between larger litters and faster growth, the cost per finished pig is less. A confinement operation also requires significantly less labor than a sustainable operation. Much of the work can be done with automation. We spend time with our animals, making sure they're healthy and happy, and that takes time.
Put those same commercial type hogs on pasture, allow them to farrow naturally, and they won't make as many pork chops or babies as in confinement but they still produce more pigs faster than a heritage breed under the same conditions. And there is still an overwhelming difference in quality of the meat. Pork should be pink and well marbled. A pork chop from a commercial breed of hog, whether from the grocery store or a pasture based farm, is much tougher than a heritage pork chop. We never need to cover our chops in sauces and marinades to make them palatable. (We use sauces because we like them.)
We also feel very strongly about humane treatment of our animals. We feel that God created pigs to forage and root so they should be able to do that. Most commercial hogs never see sunlight or green grass. (If they do, they have rings in their noses to keep them from rooting.) We feel that moms should be able to nurse their young as long as they need. We are also passionate about breed preservation. Our hogs are critically rare. A small part of the price tag includes improved breed preservation.
The bottom line is
that it just costs more, in money, time, effort and etc, to raise our heritage animals in natural conditions so the price tag is going to be higher. Again, know your priorities. If your priority is price, go to the grocery store. If you want an improved dining experience with more flavor as well as health benefit to you and your family and better for the world, please be willing to spend a few extra dollars.
For more on the vexing issues of heritage breeds and sustainable farming, look elsewhere on this website. By the way, let me just add, that the farmers who are growing those .99c turkeys are getting chicken feed for their work. The big ag companies get the profits, not the farmers. So at least go to the farmer to purchase your meat, whenever possible, even if you prefer one of
those
animals!
---