Grilled Heritage Chicken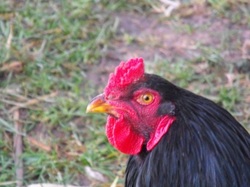 If you're like me, you love your grilled chicken. It took me a while to get used to the different texture a mature heritage bird has compared to the commercial confinement raised genetically modified birds that are sold in grocery stores and served in restaurants. More on this
here
.
The very nature of grilling dries meat out (which is why it works so well for meat that's high in fat) making a heritage bird seem "tougher". So here's a trick: pre-cook your bird!
What we do is boil our grilling chicken until it's about half done. I can't tell you how long that takes because it depends completely on the size of the bird. One way to tell is when it starts to change color.
Then let the bird cool enough to work with. Marinade or slather on your favorite baste, and there you are. Below is our favorite.
---
Cornell Recipe Barbecued Chicken
Ingredients:
1 egg
1/2 C oil (a high temp oil like sunflower oil works better than olive oil)
1 C cider vinegar
1 1/2 t. poultry seasoning (see below for a make-your-own recipe)
1/4 t. white pepper (or black - it really doesn't matter)
salt to taste (1 T or more)

Beat egg, add oil, beat again.
Add remaining ingredients and stir.
Coat both sides of chicken pieces.
Turn chicken frequently brushing with sauce each time.
Your chicken is done when the meat is white clean through or when the leg will twist off the thigh.
Please be sure you thoroughly cook your chicken.

Optional: Prior to grilling, you can marinade your chicken in this sauce for a few hours.


Made From Scratch Poultry Seasoning
Mix together:
2 t. ground sage
1 1/2 t. ground thyme
1 t. ground marjoram
3/4 t. ground rosemary
1/2 t. ground nutmeg
1/2 t. finely ground black pepper