Lamb's Quarter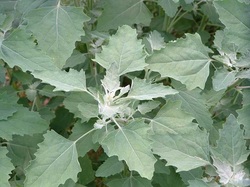 (Disclaimer: information from "
Free for the Eating
")
In a lot of homes the acknowledged pick of the edible greens is lamb's quarter. The tender tops of this wild spinach, which has none of the strong taste of market varieties, are delicious from early spring to frost-withering fall.The entire young plant is good from the ground up. Even from the older ones a quantity of tender leaves can usually be stripped. However, the pale green leaves with their mealy appearing underneaths and the slim stalks are not the only taste-tempting components of this green, also widely known as pigweed and goosefoot.Some twenty of the sixty or more species in this genus, which belongs to the same family as beets and spinach, grow in the United States, thriving in nearly every part of the country. Lamb's quarter is a very common annual which grows from two to seven feet tall. By searching, you can usually find plenty of young plants up to about twelve inches high, and these are best for the table. These young plants have a mealy whiteness to them, but they do not require parboiling. Later, the tender tips alone are excellent. The alternate leaves, which are fleshy and tasty, have long stems and angular margins.
---
Lamb's Quarter Seeds
[First Nations peoples] long used the ripe seeds, 75,000 of which have been counted on a single plant, for cereal and for grinding into meal.

These tiny gleaming discs, which develop from elongated dense clusters of small green flowers, are also handy for giving a pumpernickel complexion to biscuits and breads.
Lamb's Quarter in Vinegar Sauce
Along with other of the more tender leafy greens, lamb's quarter can be given a bit more taste on occasion with the help of a vinegar sauce. Such a flavorful acid also tends to preserve the vitamins C and A in such vegetables. Alkalies, on the other hand, such as the commonly but in-advisedly used baking soda, destroy and unnecessary proportion of these food values.

4 C loosely packed greens
1 small onion
4 slices bacon
1/4 C vinegar
1/4 t. salt
pepper to taste


Chop bacon, fry until bits become brown and brittle.
Add vinegar, salt, and pepper and bring to a simmer.


Option 1: Pour the sauce over the raw greens.


Option 2: Add the greens to the sauce and cook over low heat until they are limp.


In either case, serve immediately. And see what the family's idea is for vegetables for the rest of the week.