Wild Plums: The Fruit that Inspires Family Pilgrimages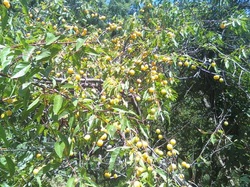 From "
More Free-For-The-Eating Wild Foods
" by Bradford Angier
Some fifteen species of wild plums abound throughout the United States and southern Canada, growing from Alaska and California to the Great Lakes and the eastern seaboard, where the fragrant white flowers of the prolific beach plum brighten the sringtimes. They are close cousins botanically of the wild cherries…
Wildlife does not use the plum so freely, however, foxes being the most avid diners. On the other hand, scattered thickets afford invaluable shelter for birds and small game. The fruit varies considerably, some of it being delicious straight off the twigs. The chief value of must of the rest is in incomparable jellies, jams, and other kitchen delights.
… [A] wild plum that is often seen in country markets is the Prunus Americana, a great favorite among the Indians [sic], and a native from Montana to New England, south to New Mexico, Texas, and Florida. Its numerous branches, whose twigs are thornlike, have rough thick barbs. The oval or oblong leaves, ending in long tapering points, are sharply saw-toothed like those of the beach plum. The frail white blossoms, again appearing before the leaves in early springtime, are extremely redolent. The red and sometimes yellow plums, appearing in late summer, are about seven-eights of an inch in diameter, tough-skinned, pulpy, and usually sweet.
---
Canned Wild Plums


Here is a way to preserve wild plums that does away with the bitterish taste often found in such cooked fruit. Wash the plums and prick the skins with a sharp fork.

Pack in hot, sterilized jars and cover with boiling water. Seal and process for 20 minutes in a boiling-water bath. Then cool, label, and store.

Using Canned Plums

Pit the fruit and for each quart of plums mix a cuip of sugar with a cup of cold water. POour this over the plums and let stand half an hour. Then enjoy them whatever way your fancy of the moment dictates.



---
Wild Plum Pastry

Such canned plums can be used during the winter to make some delectable rolls. For enough for four, you'll need a pint of the wild fruit. Drain the plums well, transferring the juice to a baking pan. Pit them and chop them into small segments. To the juice in the pan add 2 T sugar, a T of butter, and ¼ t of powdered ginger. Bring to a boil.

In the meantime, sift together a cup of all-purpose flour, a T of sugar, 2 t of baking powder, and ¼ t of salt. Cut 2 T of butter into the dry mixture. Beat an egg with ¼ C milk and 1/8 t almond extract and combine with the pastry to make a soft dough. Roll this ½" thick. Spread with the chopped wild plums, roll up, slice crosswise into 2" lengths, and place carefully in the hot syrup. Bake in a moderate 375º F oven for about half an hour or until the rolls are done. Vanilla ice cream really touches up the individual servings, especially if you enjoy them hot.


---
Wild Plum Compote

The sharpness and tartness of wild plum compote make it ideal with game. For this recipe, pit a quart of fully ripe plums and cut them into small pieces. Grate the rind from 2 lemons and an orange. Squeeze the juice. Combine plums, rind, juice, 3 C sugar, a cup of raisins, ad ½ C good sherry. Bring to a bubble in a saucepan and, stirring frequently, simmer until thick. Spoon into hot sterilized jars and seal.


---
Wild Plum Jelly

There are two secrets of making this delicacy successfully. First, pick the plums while they are still on the unripe side. Second, unless you have special equipment, make only small batches at a time, about three quarts at once being plenty.

Pick over and wash the plums. Barely cover them with water and bring to a boil. Then drain, cover with boiling water, and cook about 10 minutes or until soft, mashing and stirring every few minutes. Squeeze either through a sieve or a jelly bag. Measure the juice an return to the kettle. Slowly add an equal volume of sugar, all the time stirring. Boil rapidly until 2 drops form on the edge of a metal spoon, then come together to runn off in a sheet. This occurs at 220 to 222 degrees.

Pour to within 1/4" of the tops of hot sterilized glasses. Have paraffin melting over water, and tip a thin layer atop each nearly filled glass, turning and slightly tilting the container so that the edges will be sealed. Cool, add a second thin layer of wax, cool, cover with a lid or aluminum foil, and store in a dark, cool, dry place. This is excellent with game, lamb, poultry, and especially with rare roast beef.


---
Wild Jelly Blend

You may also care to experiment by combining plum juice with other wild juices to make your own blend of wild jelly. A particularly successful combination can be achieved by mixing every 2/3 C of wild plum juice with 1/3 C of wild apple juice, then proceeding as above to prepare your jelly.


---
Wild Plum Jam

Wild plum jam is also good. Wash and pit a quart of ripe plums, keeping the fruit as intact as feasible. Put in a large saucepan, along with ½ C waer, and bring to a bubble. Gradually mix in 4 C sugar, all the time stirring. Simmer for 15 minutes or until thick, stirring whenever necessary to prevent sticking. Remove the froth.

Spoon into hot sterilized glasses. Seal immediately with paraffin. Cover to protect from drafts, which might break the glass, and leave to cool. Label and store in dry, cool darkness.

Incidentally, any wild jams or jellies that are to be kept in a damp lace, or mailed, should be put instead into cavuum-sealed or screw-topped jars.


---